Artist's Statement
Art is a method of translation. Art supercedes verbal communication, and is the only way to completely understand a culture, a time period, or a place. It is my belief that through the creation of art, one can come to fully understand his or her own ideas, especially those which lie unconscious.
I work with a variety of materials. My murals consist of acrylic and latex paint, while my canvas paintings are exclusively oils, and I also occasionally work in watercolor. I appreciate working from photo references or models when they are available. The murals I create are made according to my clients' requests, while my canvas paintings are my own unique expressions. All of my work is primarily representational, although some of it has taken on a "sci-fi" kind of twist.
My master's thesis series, entitled "Buffalo is a Ghost," is an attempt on my part to reconcile my passion for creating oil portraiture with my deep interest in the study of ghosts and hauntings. In each vision, I have depicted a local scene or person with a paranormal guest. The title of the series refers to an idea that anyone living in the Buffalo area can understand: Our city is a quiet echo, a shade of its former life, and yet we love it and refuse to move on.
About Me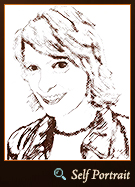 I have a Bachelor's degree in Art Education and a Master's degree in Liberal Studies with a concentration in Visual Art.

I have spent time traveling in Ireland, studying Celtic and Iron Age art, especially that adorning burial sites. I live in Buffalo with my husband and our cats.
Pricing
I will gladly do commissions. My base price is $200 USD, the rest is negotiable according to size, location, and medium. Contact me with specific details about your project for an accurate quote.